Bathtub Refinishing Apex NC
Amazing Bathtub Refinishing Apex NC
Your bathtub lost its prior gloss and whiteness. Did your tub turned into dingy and yellow with age? Or maybe you just tired from retro pink or blue color of the tile. The Amazing Bathtub refinishing in Apex NC will help to transform your tub beyond its recognition. Bathtub resurfacing is the most economical approach for your wallet.
Tub or tile will be covered with several layers of commercial grade new acrylic enamel. Our certified technicians will bring not only top quality materials, but also experience and knowledge of the process.
Pick new color for your tub, tile and walls, the right accessories. We offer variety of shades for you tub resurfacing process as well as stone look for countertops to imitate the granite look. The most common color though is either a kohler white or an off white, bone, bisquit or almond. We can custom match your color to an existing toilet, sink or tile. Together we can take your bathroom from outdated to outstanding.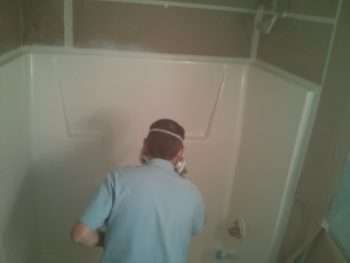 We are so excited to start a bathroom makeover project for you. Amazing Bathtub Refinishing uses only top quality, commercial grade materials which allow us to provide warranty of our job for 10-years. The durability of new coating is unbelievable and will easily last 12 to 15 years before you have a need to refinish tub again.
The complete refinishing procedure takes about 3-5. After process is completed the bathroom should be closed so that the bugs do not fly into the room and the dust from the ventilation s does not fall. Enamel usually dries in a day, depending on the temperature and humidity in the room.
Give your bathroom makeover! Call the experts from Amazing Bathtub Refinishing in Apex North Carolina for a free advice and guidance. Save thousands of dollars over the cost of replacing your tub by having it professionally new coating regrazed and refinished.