Bathtub Refinishing Raleigh NC
Amazing Bathtub Refinishing Raleigh NC
Over time, the bathtub loses its attractive appearance. Traces of rust from licking water faucet very common problem. Also, from daily use the gloss disappears over the years, and surface becomes more uneven. Is it a time to change the old tub? You might already have thoughts about jumping into pricey renovation and demolition process and realized that it is not a small expense.
In addition, when you replace a tub, you have to repair the entire bathroom, and small expenses will turn into medium or even larger ones. But there is an alternative – the restoration of the bath with Amazing Bathtub Refinishing for Raleigh city residents. Our certified and experienced team offer tub and tile resurfacing with new acrylic coating. It is fast and safe option for your budget.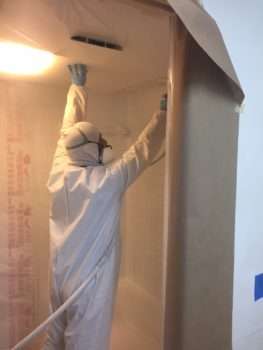 The process takes about 24 hours, no demolition is required, and your bathtub with sink stays in place. You never have to worry about dust, mess or loud sound from the banging, clanging and thumping which demolition process comes with. We use only commercial grade refinishing materials which you can't purchase at regular hardware stores to complete bathroom resurfacing job.
We work with custom tubs, sinks, fiberglass bathtubs, as well as old-fashioned coast iron tubs with claw foot and even tile. Bathroom tile refinishing is a way to transform old tile into cleaner, newer looking piece. Our expert technical will refinish outdated tile and turn moldy, discolored grout lines into white and fresh one again that you can admire. We also offer the option of choosing custom colors or a stone finish option for sink counter-tops. Amazing bathtub refinishing team will be glad to transform you old bathroom in Raleigh, NC area.
Call us (919) 817-0734 to discuss the tub resurfacing with new top coat, which is responsible for the hygienic, gloss and simply a great looking – refinished bathtub.