Bathtub Refinishing Durham
Amazing Bathtub Refinishing at Durham North Carolina proudly serves homeowners who want to renovate their bathroom, and wish to do it in a smart way by saving money. Bathroom refinishing is a clever way to restore old bathroom or damaged tub to its origin. You are no longer required to take out the old bathtub or go through messy tile demolition process.
Our certified professional will apply a new layer of enamel on prior cleaned surface. You will be given a choice of color and shade for your new tub and tile look. You can save thousands of dollars over the cost of replacing your tub by having it skillfully refinished. Tub restoration is much cheaper option compare with price tag of a new bathtub installation and purchase.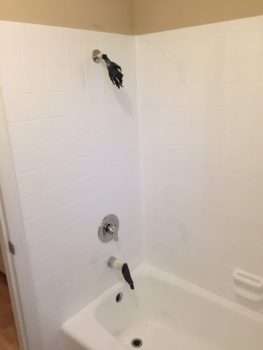 No project is small. We can repair cracks, chips, and fiberglass tub and shower bottoms. After surface is prepaid and primer used, top coating will be applied. The whole process takes 2-4 hours and 24 hours for a full glaze cure. Afterwards, you can enjoy glossy and clean tub. We believe in serving our clients with highest commercial quality materials available in the industry which allows us to provide you with n-years warranty. DIY kits from regular hardware store do not deliver same level of bonding and paint will peel of after several uses. We also use professional spay equipment which does not leave roller or brush marks.
After our technician complete the tub and tile refinishing job, the updated surface will be durable and give you up to 15 years of great experience. We believe in our reliable and honest reputation. Amazing Bathtub Refinishing is committed to the community of Durham, NC by providing quality service.
Call us today to find a solution that are on budget and completed on time. We will be glad to explain you each step of the bathroom resurfacing process and discuss options available for your renovation project.