Bathtub Refinishing Holly Springs NC
Amazing Bathtub Refinishing Holly Springs NC
The bathtub restoration in Holly Springs, NC from Amazing Bathtub refinishing is very reliable tub refinishing option, in many aspects it exceeds the quality of the factory coating. We provide warranty for 10- years and appropriate recommendations for the tub care.
Before the arrival of the certified technical you need to prepare a place for work: remove from the tub and around it all unnecessary toiletries items, which can fall into the tub at the most unappropriated moment.
Leave the floor items away from the bathroom too. Let the surface of the tub and tile dry, or at least not use it an hour before the arrival of the specialist. Also check that your tub spout isn't dripping and that it doesn't have a continuous leak. Although technical will place a plastic baggy over the spout to catch any left-over water in pipe, a continuous slow drip would fill up the baggy within a couple hours and it can lead to the damage of new coating. If there is any leaking or dripping faucet you are advised to fix it before the tub refinishing process begin.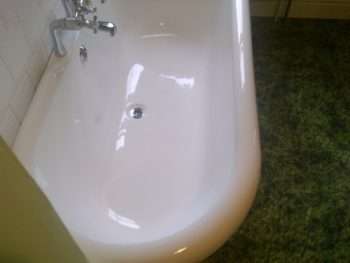 For some people it seems like bathtub refinishing is a simple job with spray paint from local hardware store. However, tub coating regardless of the misleading effortlessness, requires a lot of experience and special skills as well as commercial grade materials and ventilation, specialized tools.
The operator from the Amazing Bathtub Refinishing Company will restore your bath within 3-4 hours. A tub and tile unit which contains the bathtub and the 3 tiled walls of the tub surround area will take about 7 to 8 hours to complete. Your transformed bathroom will dry out and new coat of acryl will be completely cured in approximately 24 hours.
Good news, the disassembling of faucet and showerheads is not required! Amazing Bathtub Refinishing is a hassle free bathroom renovation just in one day and on a budget. Simple and low-cost resurfacing of bathtubs in Holly Springs NC will return your tub a prior gloss and whiteness for many years! We also provide Warranty!
(919) 817-0734